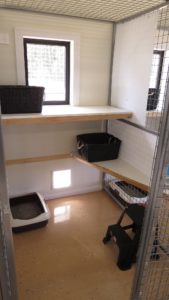 No more small dingy boxes for your cat. We have two suite sizes, standard and premium.
Our premium suites are designed to make your cat feel at home and are over 6 square meters in size. While our standard suites are still over three times larger than the industry requirement.
All suites have indoor and outdoor areas.
Standard suite size
Internal    1.8 m2 (1.2 x 1.5 m)
External   1.0 m2 (1.2 x 0.9 m)
TOTAL     2.8 m2
Premium suite size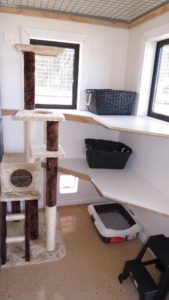 Internal    2.6 m2 (1.2 x 2.2 m)
External   3.9 m2 (3.1 x 0.9 + 1.2 x 0.9 m)
TOTAL     6.5 m2